DJ Geribo and Jim Fontaine, the cofounders of Help Shelter Pets, are passionate about saving animals.
DJ Geribo, the Artist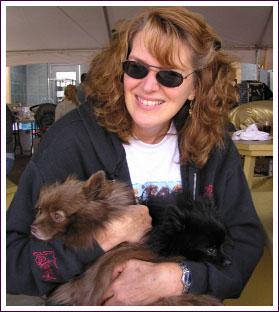 With a BA degree in English, DJ worked for several years as a technical writer in the computer industry. Having a strong interest in the arts, DJ decided to pursue a career in fine art, teaching herself to paint in several mediums including watercolor, acrylics, pastels, and oils. Her favorite subjects to paint are animals and nature.
A fine artist, writer, entrepreneur, and animal advocate with two online businesses focused on helping animals, DJ is committed to doing what she can to help wild and domestic animals.
"My purpose in painting animals and nature is to show the beauty, the fragile condition of nature. I see this as a challenge in my art and hope I can reach others through my art so that they, too, will come to love and appreciate the beauty on earth that is ours to cherish and protect."
DJ has shown her artwork in various shows around the US including New Hampshire, Maine, Vermont, Massachusetts, Indiana, and Arizona. To see her fine art, go to
www.DJGeriboFineArt.com
.
She completed a book about her Pomeranian's illness and recovery from IMHA, an auto-immune disease, titled "Miracle Dog." She has also written a couple of children's picture books, a middle grade book, and a collection on literary short stories. She is concurrently working on a memoir collection as well as a couple of novels. Go to
www.DJGeribo.com
or
www.BBDPublishing.com
to purchase any of her books.
Jim Fontaine, the Internet Architect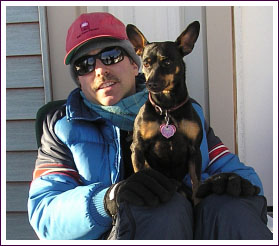 For over 25 years, Jim has been involved in high-tech and the software industry. With a degree in Electrical Engineering, he quickly realized that working with computer software was what he truly wanted to do. Having worked with many software companies, he eventually spent several years employed by major California firms. And, in 2002, he started his own company designing and developing e-commerce and content management enabled websites for businesses of all types and sizes - Positively Creative Solutions, LLC - online at www.PCSWebDesign.com.
Jim is active in his local community as well. He was the founding, Charter and first President of the Alton Centennial Rotary Club and remains an active member with a perfect attendance record. He maintains active memberships in the Wolfeboro and Greater Rochester Chambers of Commerce. Jim also holds a position on the Board of Directors for Cornerstone VNA.
Sharing his passion for all animals with his wife, DJ, he has designed and created both the Help Shelter Pets website and the Eye Help Animals website. As entrepreneurs and wildlife supporters, DJ and Jim cofounded Eye Help Animals, LLC in 2008. Using DJ's paintings of wild animal eyes reproduced on t-shirts, collectible pins, fine jewelry and other items, they donate 25% of profits to wildlife conservation and habitat preservation organizations around the world.