Petpourri
Animal news, product reviews, and other useful information for pet owners.
How Many Cats vs Dogs
In: Petpourri
An article in the Herald-Review.com took a poll asking if people thought there were more cats or dogs that are kept as pets. The answer was there are more cats - 88 million compared to 75 million dogs.
A second question asked if there were more breeds of dogs or cats. There are more than 4 times as many dog breeds (170) as there are cat breeds (40).
They also asked which animal has a more acute sense of smell and hearing? Although the dog wins hands down with the most acute sense of smell (220 million olfactory cells, cats have 100 milion, humans have 5 million), cats kicked butt in the hearing sensitivity area with dogs hearing 5 times more acute than humans and cats twice as sensitive as dogs.
To read the full article, go to www.herald-review.com.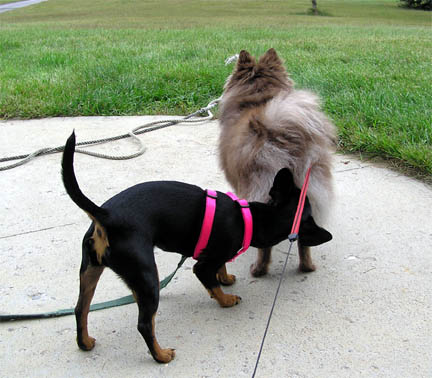 I Smell You!
New Pet Adoption Center Being Considered at Chicago Petco
In: Petpourri
PAWS Chicago, a no-kill animal shelter, will need about $300,000 to remodel and operate the shelter plus pay for medical services and employee salaries at the Petco location.
"The Planning Commission's approval is contingent on several conditions, among them that there be no special sales of animals that can be considered to be predatory or environmentally hazardous, or are related to specific holidays, such as bunnies or chicks for Easter", reported Donald Liebenson in the Chicago Tribune.
Founded in 1997, Paula Fasseas, founder and chair of PAWS Chicago said their mission is "to solve the problem of overpopulation of homeless animals by not only adoption but also providing free spaying and neuter services for low-income family pets."
Lance Schwimmer, vice president of regional operations and a member of the board of directors of Petco Foundation, an animal welfare charity, said "The opportunity to add an adoption center in the Highland Park store provides more exposure for homeless animals and more opportunities for people in the community who are looking for companion animals." The foundation works with more than 8,000 local animal welfare groups across the country to find homes for homeless animals.
This sounds like a win/win situation that hopefully more Petco stores will adopt.
Euthanizing Down in Portland, OR
In: Petpourri
Six animal shelters in Portland, OR have joined together to reduce the number of euthanized animals in the area. In 2006, 18,000 animals were euthanized but in 2012 that number was reduced to 6,000.
Their success is attributed to a commitment to saving more lives and finding homes for the stray dogs and cats. If one shelter is overcrowded, the others will take in more pets. A state-of-the-art vet hospital helps with a speedy diagnosis for sick and injured animals, saving more lives. A microchip system allows stray animals to be identified and returned to their owners so they never have to enter a shelter.
Although these improvements have made a significant difference in the number of animals that are euthanized, the executive director of the Oregon Humane Society, Sharon Harmon, says that the community can help and get involved by fostering pets and donating to their local shelter.
Sleep Time vs Play Time
In: Petpourri
A good friend of mine told me that her cat wakes her up most mornings a couple of hours before she is ready to get up (like 5am instead of 7am). This friend is retired so thankfully she can take a nap later if she wants to. But what about those who need to get up for work and just aren't getting the rest they need because their pets, who sleep with them, are on a different time schedule?
My dogs sleep with me and are great, no matter what time I get up in the morning (I work at home so often stay up late, which creates a less structured sleep/wake up time) they will wait until I'm ready to get up before they get up, usually. There have been rare occasions when one of them needed to get up and I was not ready to get up (like at 3am), despite having put them out just a few hours before. But as I said, those times are rare.
For my friend, she doesn't have a door on her bedroom so can't keep the cat out. She just suffers with it. But in a recent article that I read, one suggestion mentioned that for people who work, give the pet something to do during the day when you aren't home. It is not surprising that when you get home from work they want to play since they most likely have been sleeping all day long. If you can walk them in the morning before you leave for work that is also ideal. But make sure you play with them when you get home to get some of that energy that they've stored up all day out of them before going to bed so that they will hopefully sleep through the night and become more adapted to your schedule.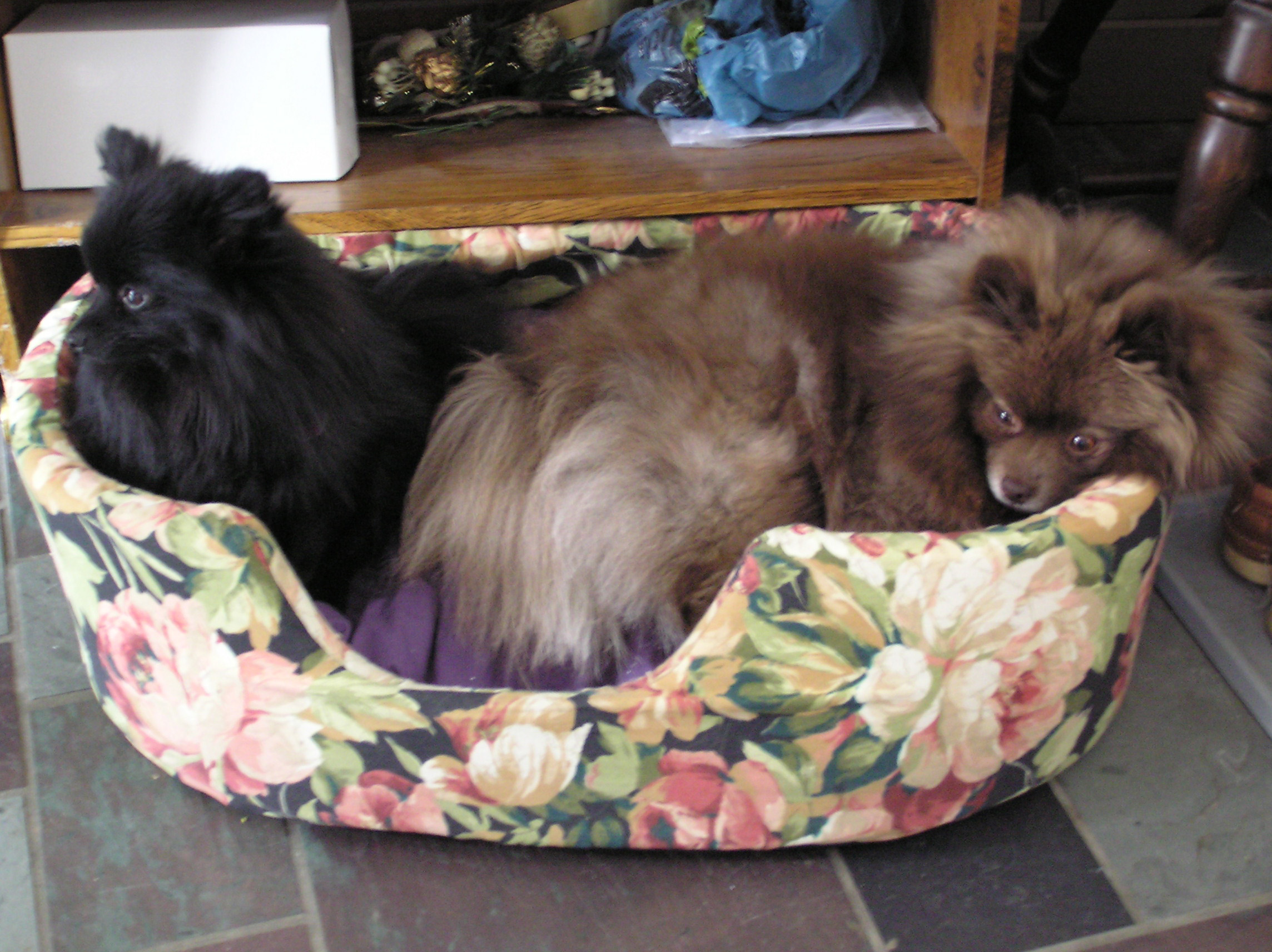 Meko and Binka snuggled together
Don't Forget the Shelter Animals
In: Petpourri
During the holidays we are all focused on buying gifts for our family and friends. Our pets are always on our Christmas list and every year finds them more spoiled than the previous year. I am so happy that I can provide such a nice home with every imaginable comfort for our three dogs and our Cockatoo. But other dogs, cats, and other pets aren't as fortunate. Many more are in shelters with minimal care and comfort.
It might be a nice idea to add "helping at my local shelter" to your holiday list. Visiting a dog or cat, walking them, playing with them, giving them the much needed attention that they thrive on would be a wonderful, loving act of kindness for the animals at your local shelter.
Jim and I used to visit our local shelter in Exeter, NH and ask them for their 'wish list' - they all have one, you just have to ask for it. We would go to BJs and purchase as many things on the list as our vehicle would hold. We were known as Mr. and Mrs. Santa Claus for several years and we know how much they appreciated everything we did for their shelter. Although we both worked full-time and had little time to ourselves, we still did what we could to help the animals less fortunate than ours in the best way we could at that time.
So, remember the shelter animals this holiday season. Contact your local shelter and find out how you can help. Just a few minutes of your time can make a world of difference to a homeless dog or cat.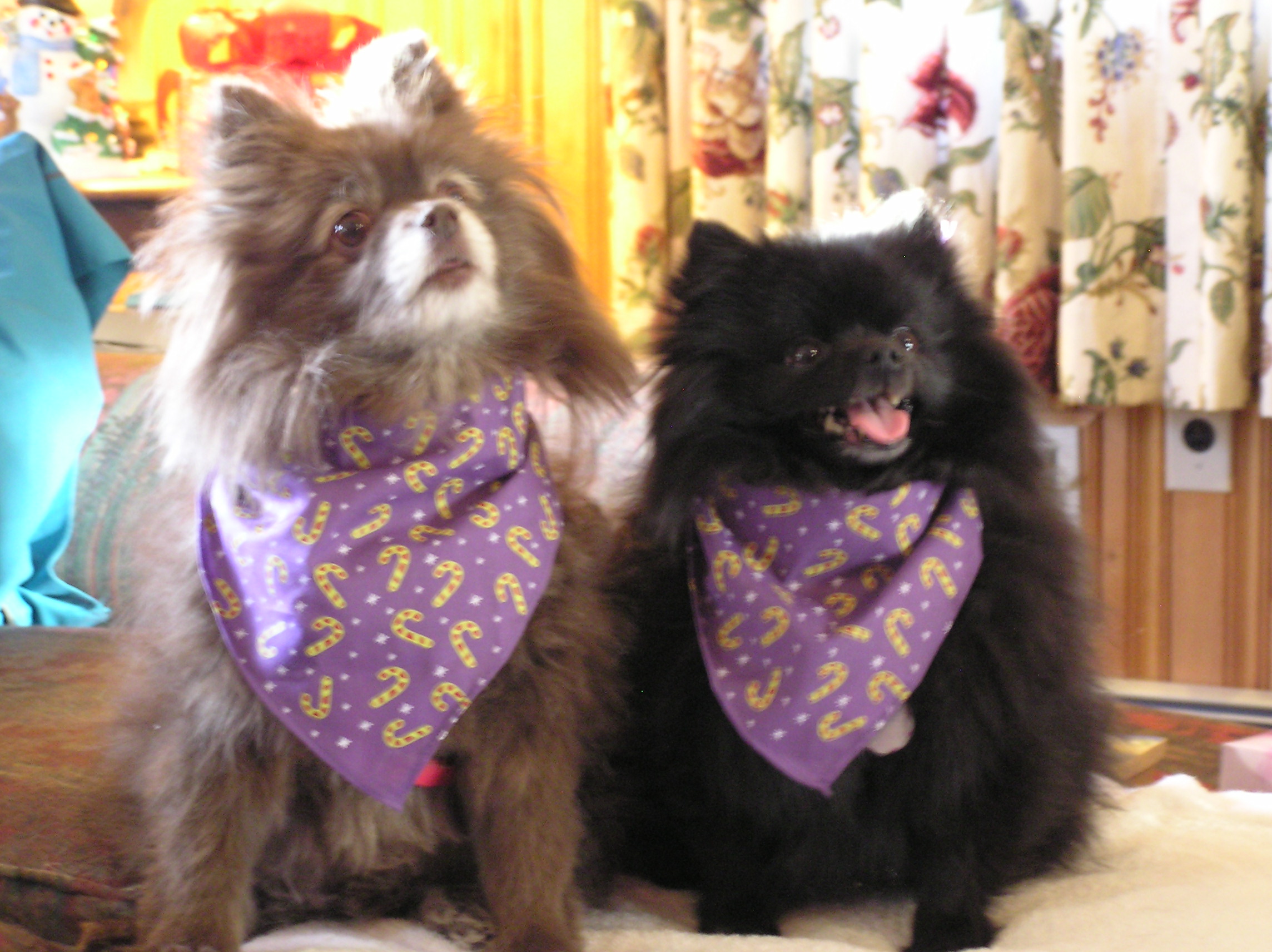 Kameko and Binka with their 2010 Christmas scarves